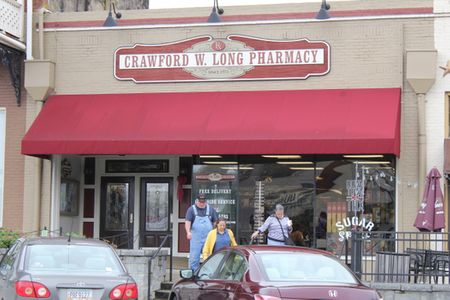 About Us
Crawford W. Long Pharmacy is a place where concoctions, liniments, mouth extinguishers, sinus headache combo packs, and psoriasis step therapy meets the world of diabetes awareness classes, flu vaccines, specialized wound care, disease state management and advanced compounding techniques. Wisdom meets intelligence, the best of both worlds, and old time medicine is fused with new pharmaceutical technology of today. Both benefit our customers beyond measure.
Ryan Gurley, Pharm. D. graduated from UGA in May 2010 and immediately joined his father, Fred, in the family business. His addition to the staff has evolved the store into the pharmacy of today. Fred Gurley, a life-long resident of Jefferson owns and operates Crawford Long Pharmacy in Jefferson. It is the only locally owned pharmacy in Jefferson.
Crawford W. Long Pharmacy has sixteen full and part-time employees. All of Fred's staff live in Jefferson and have worked for Crawford W. Long Pharmacy for a combined total of 186 years. Our roots are deeply embedded in the people, schools, and churches of the community.
Our Main Concern
Our customers are our primary concern. We take pride in making sure that each customer understands their medications, side effects, and any possible drug interactions. We also understand that emergencies can happen at any time. We are there for our customers 24 hours a day, and have been for 38 years.
As we compete with the "big box" stores with drive-in windows who practically "give away" the cheap generics, we stand firm on the fact that overall, we offer better pricing. The pharmacy carries the largest prescription inventory in town. We also carry a full line of professional grade orthopedic braces, support hose, and diabetic supplies.
We have a great relationship with the local doctors and are always happy to call them with any medication questions or refill requests you may have. The pharmacy also offers free delivery within a five mile radius to all their loyal patients. Also, be sure to stop by the Sugar & Spice Café inside the pharmacy, which serves breakfast and lunch every weekday.
Fred and his staff invite you to come by and talk to them about you pharmacy needs. If you are moving into the community, we welcome you! If your previous pharmacy choice was a chain or grocery store, you really need to try out an independent pharmacy for some old-fashioned personal service.
Compassion and pride for our patients and the community is what sets us apart. As naming of the pharmacy after an excellent renowned doctor, a tradition of excellence is always the achieving goal at Crawford W. Long Pharmacy. We will bring this (and your prescriptions) to your doorstep. Ask about our free prescription delivery!